Group sessions
Techniques of relaxation involve simple breathing exercises which, together with relaxation of the body, can give you greater control over your emotions.
During our classes, the therapist will introduce you to a number of techniques:
Relaxation techniques
Breathing techniques
Visualisation
Session times
Monday: 2.30 – 4.00 pm
Tuesday: 10.00 – 11.30 am
Thursday: 11.00 am – 12.30 pm
Classes are not held on public holidays.
Prior to the first session, you will meet the relaxation therapist and discuss your individual needs.
There is no need to book and everyone is welcome, both patients and those who care for them.
Relaxation services during the COVID-19 pandemic
At the moment, our relaxation classes have been suspended.
However, we are offering a guided relaxation service via telephone.
Do I have to pay for the classes?
All LJMC services are offered free of charge to NHS patients under the care of an oncologist based at Mount Vernon Cancer Centre.
The relaxation classes at the LJMC are funded by voluntary donations. Any contributions towards the cost of the service are therefore always gratefully received.
Private patients having treatment at Mount Vernon Cancer Centre may also be eligible to use our services. Please call the Helpline for details.
Other resources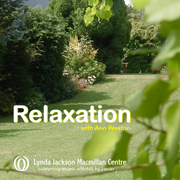 The LJMC also stocks a range of relaxation CDs to buy or borrow.
Our own CD – Relaxation – is also available to purchase or download. This was recorded specially for the LJMC by Relaxation Therapist Ann Weston with music composed by Steph West.
Just click on the image to play the recording.
The most effective way of managing stress and anxiety is to make time for yourself and practise calming exercises regularly.
Download LJMC publications