Group sessions
A diagnosis of cancer and subsequent treatment can be really challenging. The relaxation support service aims to give you ideas, tools and techniques to help you cope better with the stresses you are facing.
Sessions offer a range of gentle strategy-based ideas and techniques including:
Simple breathing techniques to help induce a sense of calm and reduce anxiety
Effective ways to relax tension in your body to ease pain and discomfort
Practical ideas to help with poor sleep
Techniques to calm your mind and help you feel more steady
Gentle ways to support your energy levels and cope with fatigue
… and a host of other self-help tips, tools and techniques…
Session times
| | |
| --- | --- |
| Monday | 10.00am-11.15am |
| Tuesday | 11.00am-12.15pm |
| Wednesday | 2.00pm-3.15pm |
| Thursday | 2.30pm-3.45pm |
Classes are not held on public holidays.
Prior to the first session, you will meet the relaxation therapist and discuss your individual needs.
Places are limited so please book in advance by calling the Helpline (020 3826 2555).
To keep everyone safe, we continue to follow COVID-19 guidance. This will be explained to you when you book.
Do I have to pay for the classes?
All LJMC services are offered free of charge to NHS patients under the care of an oncologist based at Mount Vernon Cancer Centre.
The relaxation classes at the LJMC are funded by voluntary donations. Any contributions towards the cost of the service are therefore always gratefully received.
Private patients having treatment at Mount Vernon Cancer Centre may also be eligible to use our services. Please call the Helpline for details.
Other resources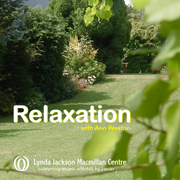 Our CD – Relaxation – is also available to purchase or download. This was recorded specially for the LJMC by our former relaxation therapist Ann Weston with music composed by Steph West.
Just click on the image to play the recording.
The most effective way of managing stress and anxiety is to make time for yourself and practise calming exercises regularly.
Download LJMC publications