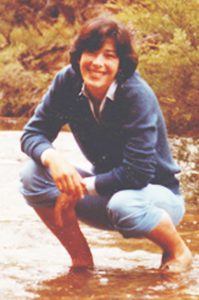 Lynda Jackson (1961-1992)
Lynda was born and raised in Harrow (Stanmore). She was educated at Aylward Primary School, Bentley Wood High School and Lowlands Sixth Form College.
Bright and sporty, Lynda represented both school and county at badminton and gained a good clutch of GCSEs and 3 A levels. She then went on to gain a degree in Computer Science and Maths from the University of London. From university she joined BT where she specialised in introducing new computer systems.
Lynda was very active in community life and fundraising. Whilst still at school, she was very involved in running a youth group for 13-16 year olds and then set up a local organisation for raising funds and undertaking voluntary projects in Israel.
Fun loving and outgoing, she had a wide circle of friends for whom she was always there. Lynda's joie de vivre was infectious – you couldn't be down for long with Lynda around.
In 1985, she married Jeff Jackson and their son Stephen was born in 1988. It was later that year that Lynda was first diagnosed with cancer of the thymus. Lynda was treated at Mount Vernon Hospital.
When Lynda died in March 1992, her family and close friends approached the hospital to see if they could do something in her memory.
A number of studies had already highlighted the need for better provision of information and support to help cancer patients and their families. This would complement the treatment and work of the medical staff, by providing a more holistic approach from diagnosis, through treatment and beyond.
It was originally envisaged that the money that was raised would be used to convert an unused part of the cancer treatment centre to provide a dedicated area for the provision of counselling, information and support services. However, news of this pilot project spread and Macmillan Cancer Support offered the funds which enabled the design and construction of the purpose-built facility which we have today.
Karen Bunt (sister to Lynda Jackson)
August 2007