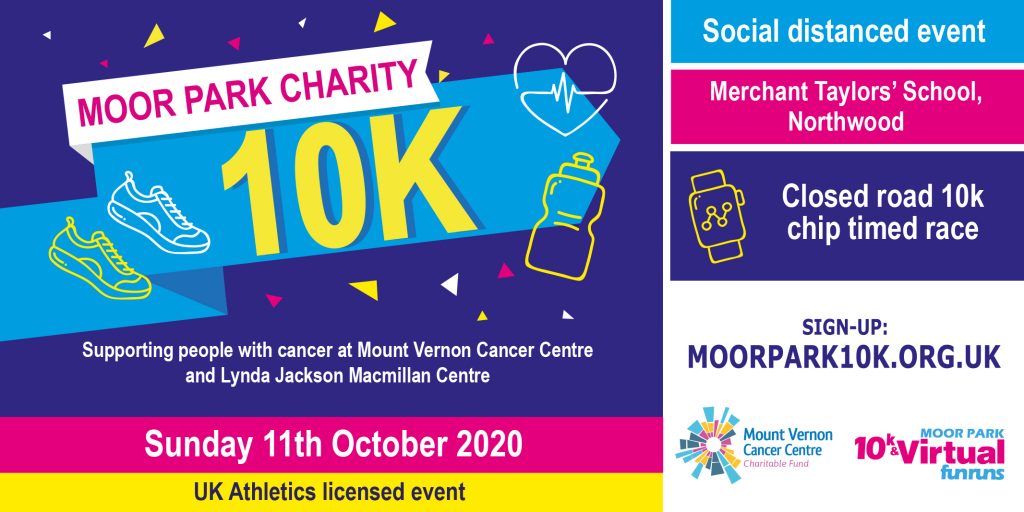 We are absolutely chuffed to bits to confirm that the Moor Park 10k will be going ahead this year. Since 2002 this has been our largest annual fundraising event and we were devastated to think that COVID-19 might put a stop to the fun which is enjoyed by so many people each autumn.
There will be a few changes to our normal event, not least of all that we are unable to hold the junior events. However, we have a plan to make sure that everyone can still don their trainers to raise money for the LJMC (see below).
When and where?
The 10k will be taking place on Sunday 11 October 2020 at Merchant Taylors' School in Northwood following the same route as usual. In order to control numbers, there will be two starts, at 3.00pm and 4.00pm depending on your anticipated finish time.
What about COVID-19?
Many people are understandably nervous about entering events again. Our race organisers at Active Training World will be taking every precaution to ensure that this event is safe and appropriately socially-distanced. They have produced a video which we hope will reassure you.
This event has a reputation for having a great atmosphere but, sadly, we are discouraging spectators this year.
Fundraising for the LJMC
We hope that as many participants as possible will try and raise much-needed funds for the Lynda Jackson Macmillan Centre.
The money you raise this year will go towards our invaluable Complementary Therapy service.
Since we were forced to close our doors to face-to-face visitors in March, our amazing team of complementary therapists has worked tirelessly, offering telephone relaxation sessions and developing online resources to help our patients.
Our patients have praised this innovative service:
"This has helped so much, better than any medicine I could take. I get my mind in that place… it gives me courage"

"I was surprised by the telephone support – it was wonderful. All you concentrate on is the person's voice and that is where the power is. You're conscious and aware of your whole body relaxing."